Medical Billing involves the process of submitting and tracking claims with healthcare insurance companies to obtain payment for healthcare services provided by a healthcare provider. This process applies to both private insurance companies and government-sponsored programs.
We offer training program for freshers, providing them with the necessary skills to work in this field and guaranteeing job placement upon successful completion of the training.
Eligibility: Candidates with any graduation or diploma qualification are eligible to apply, with a preference for fresh graduates.
Billing Industry: The medical billing industry is expected to experience faster-than-average employment growth, with excellent job prospects. Individuals with a strong background in medical billing and coding will be in particularly high demand.
Placements and Compensation for Trained Professionals: Upon successfully completing the training, candidates will receive job offers from leading MNCs. Placement options are available in Chennai, Salem, Trichy, Coimbatore, Bangalore, Pune, and Delhi, depending on the candidate's preference.
The monthly salary ranges from 10,000 to 20,000 INR, with assured opportunities for career advancement from the recession free industry.
Revenue Cycle Management (RCM)
The latest Medical billing US Healthcare RCM industry news, insights, information and thought leadership, Short takes on vital topics for insurance, Medical Billing process, RCM, US Healthcare information and Browse All Posts by Topic with US Healthcare coverage from fareesha.com
"The medical billing process is a process that involves a third party payer, which can be an insurance company or the patient. Medical billing results in claims, which are billing invoices for medical services rendered to patients."
Insurance
Life Insurance
What is medical billing?
According to AAPC, Medical billing is the process of generating healthcare claims to submit to insurance companies for the purpose of obtaining payment for medical services rendered by providers and provider organizations.
After translating a healthcare service into a billing claim, the medical biller follows the claim to ensure the organization receives reimbursement for the work the provider performed. A knowledgeable medical biller can optimize revenue performance for the physician practice or healthcare organization.
---
RCM
The Full form of RCM is Revenue Cycle Management.
Healthcare Revenue Cycle Management (RCM) is the financial process facilities use to manage the administrative and clinical functions associated with claims processing, payment, and revenue generation. The process consists of identifying, managing, and collecting patient service revenue.
The financial process is crucial to ensuring healthcare organizations stay in operation to treat patients. Facilities use healthcare revenue cycle management to collect profits and subsequently keep up with expenses.
Start: Healthcare Rrevenue Cycle Management (RCM) begins when a patient makes an appointment to seek medical services.
End: The process ends when organizations have collected all claims and patient payments.
---
The Medical Billing Process
While the medical billing cycle comprises numerous steps that can take anywhere from a few days to several months, accurate billing and timely follow-up are No. 1 priorities. Most states require insurance companies to pay claims within 30 or 45 days. Conversely, payers impose claim filing deadlines that, when missed, nullify coverage. The late claim is denied without option to appeal, and the organization forfeits reimbursement.
Errors occurring at any stage in the billing cycle can prove costly in terms of revenue and administrative workload, which underscores the value of medical billers able to command their role in the billing process. The financial health of physician practices and provider organizations, such as hospitals, health systems, and surgery centers depends on the effectiveness of front-end and back-end billing staff.
---
Front-End vs Back-End Medical Billing
The medical billing process can be broken down into stages, what's known as front-end and back-end. Front-end billing takes place pre-service — or before the patient sees the doctor. This stage involves the front-office staff and includes all the patient-facing activities on which accurate billing depends.
Back-end billing occurs after the provider sees the patient. Once the medical coder completes their responsibilities and the billing staff have access to the medical codes that represent the patient encounter, the billing process resumes in the back office, which simply means that back-end activities are not patient-facing.
Back-end billing staff attend to the many tasks focused on claims management and reimbursement. These tasks are as crucial to revenue cycle management as front-end billing activities where simple errors commonly inflate claim denial rates. But the level of complexity increases in back-end billing. Certified professional billers are needed at all stages of the billing process but claim preparation and post-adjudication activities demonstrate the education and expertise required of this profession.
---
Front-End Medical Billing
Front-end medical billing staff should be well versed in their organization's payer mix. Familiarity with the various payers and health plans accepted by the organization prepares billers to verify insurance eligibility, as well as remaining aware of filing deadlines and which payers require preauthorization of services.
---
Pre-Registration and Registration
Processing an insurance claim begins when a patient contacts the provider's office to schedule an appointment or registers at the hospital. Staff typically obtain the patient's demographic and insurance information, or the patient completes a registration form after arriving at the place of service.
When the billing staff maintain standard operating procedures for patient registration, they're better equipped to avoid data capture errors. Accurate patient data is paramount when determining the patient's eligibility and benefits, in addition to obtaining prior authorization.
---
Insurance Eligibility Verification
To receive payment for services, front-office staff must confirm that the services are covered by the patient's health plan. This step, which can be conducted by phone or by an insurer's electronic eligibility verification tool, verifies eligibility effective dates, patient coinsurance, copay, deductible, and plan benefits as they pertain to specialty and place of service.
Obtaining necessary preauthorization is also important. Insurers often require preauthorization as a contingency of payment, particularly for medical services conducted outside the primary care setting.
---
Point of Service Collections
Having determined benefit information during eligibility verification, staff is informed of the patient's financial responsibility. This allows the biller to collect the copay, deductible, coinsurance, or full balance due while the patient is at the front desk, either during check-in or checkout.
Point of service collections are key to medical billing, in that they reduce the expense of patient balance follow-up and help to avoid bad debt and write-offs.
---
Encounter Form Generation
An encounter form, also called a superbill or fee ticket, is a form generated for each patient encounter. Printed with patient demographics added, the form consists of a list of common services (including their medical codes), as well as an area for clinicians to note diagnoses.
Front-end staff generate the encounter form, which will be used to communicate information about the number and type of services provided to the patient. At the end of the patient encounter, the provider will tick the appropriate boxes and sign the form to attest that the ticked services were performed and may be billed. If the provider uses an EHR and practice management system, the encounter form will likely be electronic.
---
Checkout
At this stage in the billing cycle, front-end staff make a follow-up appointment when required and ensure that the physician completed the encounter form. Checkout also provides a second opportunity for point of service collections.
After the patient checks out, medical coders obtain the medical records and convert the billable information into medical codes.
---
Back-End Medical Billing
Medical billers regularly communicate with physicians to clarify diagnoses or to obtain more information about a patient encounter. The medical biller must know how to read the medical record and be familiar with CPT®, HCPCS Level II, and ICD-10 codes.
---
Charge Entry
The encounter form relays to the charge entry staff what services and procedures were performed and why they were performed. The charge entry staff then enter these charges into the practice management system, along with payments made by the patient at the time of service.
If staff notice an encounter form lacking a diagnosis (which is required by payers to justify performing a medical service), the charge entry staff must ask the provider for more information.
Charge entry responsibilities also involves charge capture reviews to confirm that all charges and receipts were added when reconciling patient charges. This review is usually done at the end of day by balancing total charges and payments from encounter forms with a printed system report of the day's charge entry.
---
Claim Generation
After the charges and payments are entered, it's time to create the claim. This may involve compiling charges, revenue codes, CPT®, HCPCS Level II, and ICD-10 codes.
Pulling information from the superbill, either manually or electronically, allows medical billers to prepare the claim. The superbill, if you recall, is the encounter form detailing the patient's demographic information, as well as the services provided to the patient and the diagnosis that verifies those services.
This itemized form also includes the date of service and essential provider information, such as the provider's name, location, signature, and National Provider Identifier (NPI). It may also include provider notes and comments to justify medically necessary care. In some cases, it may include an admission date and information for billing provider and referring provider.
Once pulled, this information is translated into a claim and sent to third-party payers for reimbursement.
---
Claim Scrubbing
During claim preparation, billers scrub claims to ensure all procedure, diagnosis, and modifier codes are present and accurate. Claim scrubbing also involves ensuring that required patient, provider, and visit information is complete. To accomplish this stage in the billing cycle, medical billers typically run claims through claim scrubbing software, which identifies and corrects errors.
Some physician practices and provider organizations send claims to clearinghouses instead of, or in addition to, scrubbing their claims. A clearinghouse is a third-party company that reviews, edits, and formats medical claims (or returns them to billers for needed corrections) before sending them to insurance payers.
---
Claims Forms
Medical billers primarily use one of two claim forms to obtain payment from insurers — the CMS-1500 claim form and the UB-04 claim form — both of which were created by the Centers of Medicare & Medicaid Services.
The CMS-1500 claim form is used to report professional services performed by providers and Ambulatory Surgical Centers. The CMS-1450, more commonly known as the UB-04 claim form, is used to report services and procedures performed at inpatient facilities, such as hospitals.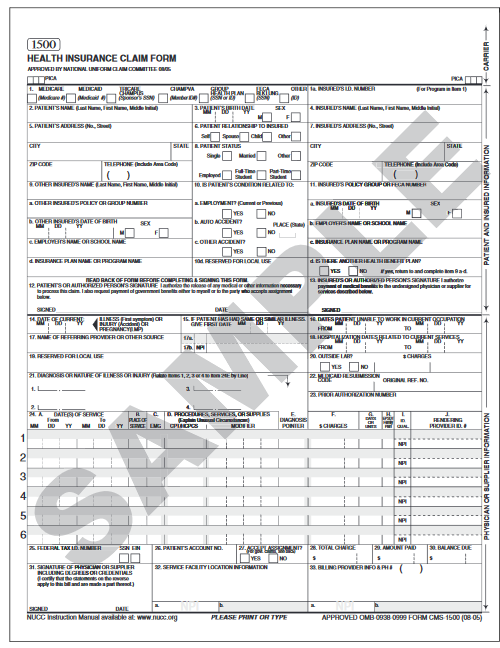 Image: CMS-1500 Medical Claim Form
Commercial payers may use custom claim forms based on their requirements for reimbursement. Many private payers, though, have transitioned to the CMS forms.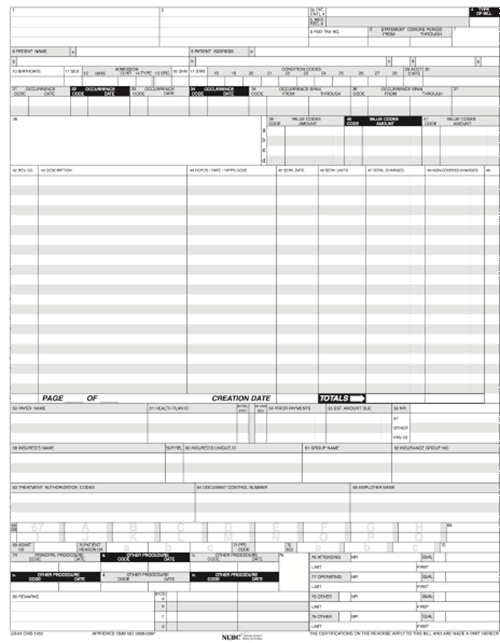 Image: UB-04 Medical Claim Form
Although it is important for the medical biller to understand the form fields, most field completion is programmed into the practice management system (or clearinghouse software).
---
Claim Submission
Provider organizations can submit claims directly to payers, which is usually done electronically using software that meets electronic filing requirements, as established by HIPAA claim standards. Most physician practices, though, opt to submit medical claims through a clearinghouse.
Clearinghouses offer an array of services, one of which is to review claims for compliance with payer policies and federal regulations. The clearinghouse will return claims needing corrections to the biller, and then send the corrected claims to the payer.
When the claim makes it past the clearinghouse to the payer, the data file is processed, converted to a claim form for the claims analyzer or claims adjudicator to review. The clearinghouse report should show when a claim has been received by the payer. It may contain notes from the payer, such as a patient ineligible for date of service.
---
Claim Tracking
The medical biller's job isn't over when the claim is submitted. Billers must check claim statuses daily. Clearinghouses, when used, typically offer dashboards that give billers convenient access to status updates for submitted claims.
Once a claim makes it to the payer, adjudication begins. Adjudication refers the review process and resulting determination of if and how much a payer will pay the provider. This determination is based on the information the biller provided and whether the claim is valid and should be paid.
Following adjudication, payers generate two types of statements:
Electronic Remittance Advice (ERA), sent to providers
Explanation of Benefits (EOB), sent to patients
ERA statements sent to the provider organization detail what services were paid, if additional information is still needed, or why a claim was denied.
---
Payment Posting
On the day physician practices or hospitals receive their ERAs and accompanying checks or direct deposits, payments must be posted. This includes zero-dollar remittances, as these often include denial codes and other important details.
The back-end billing staff need to match payments to the respective patient accounts, reconciling payments against their claim and confirming that data from the ERA (or EOB) match payments. At the end of the day, medical billers need to balance direct deposits received and posted.
---
Patient Payments
As soon as remittance advice is posted, patient statements should be sent for all outstanding balances. The sooner the statement is received by the patient, the sooner it will be paid. Patient statements should detail the date of service, services performed, insurance reimbursement received, payments collected at the time of service, and reason the patient balance is due.
Once these final payments are made by patients, commonly arriving by mail, they should be posted and balanced. With many patient cases, this completes the billing process and closes the patient account.
---
Denial Management
Denials or reimbursement problems should be worked as soon as they are received from insurers. When a payer denies a claim, the remittance advice provides billing staff with a denial code(s) and a brief explanation as to why the claim was denied. The denied claim should be reviewed by the billing staff to determine whether additional information is needed, if errors need to be corrected, or if the denial should be appealed.
When appealing claim denials, medical billers often team up with medical coders, depending on the root cause of the denial. The billing staff will then prepare the appeal letter and refile the claims.
---
A/R Collections
The final phase of medical billing is patient collections. Delinquent accounts happen, and medical billers will follow-up with patients who fail to pay their patient financial responsibility after a set period.
In addition to regular communications through statements and availability to answer questions, patient follow-up can involve offering conveniences to accelerate collections and lessen bad debt. These conveniences might include payment plans and online payment methods.
Once payment is collected, medical billers submit the revenue to accounts receivable (A/R) management, where payments are tracked and posted.
---
Credit Balances
Credit balances — receiving money for medical services in excess of charges — poses a significant risk to provider organizations. While many events could lead to a credit balance, the medical billing staff must identify overpayments and promptly refund them to appropriate parties. Failure to do so could result in litigation and civil monetary fines.
---
Charge Entry
When the initial procedure of registration of patients is completed, the treatment is carried out.
During this activity, the physician has to fill in the charge sheet or the super-bill showing details of the treatment rendered.
This form shows the patient's name, date of service, time of service, doctor performing the service, procedure description and diagnosis description. The attending doctor should sign this form.
A sample charge sheet/ super-bill is attached. Based on the procedure & diagnosis descriptions, the CPT/ HCPCS codes and the ICD-9 codes would be filled in.
This is an internal form and would be used in filling up the claim to be sent to the carrier.
This should not be used as a medical record to be attached along with the claim.
Charge Entry involves two major activities:
Entry of Demographics:

The entry of Patient details from the Patient registration forms into the billing software.

Entry of details from Charge Sheets/Charge Tickets

The entry of the various details from these documents into the billing software
HCPCS
HCPCS – Health Care Financing Administration Common Procedure Coding System. (pronounced "hick-picks"). Three level system of codes. CPT is Level I. A standardized medical coding system used to describe specific items or services provided when delivering health services. May also be referred to as a procedure code in the medical billing glossary.
The three HCPCS levels are:
Level I – American Medical Associations Current Procedural Terminology (CPT) codes.
Level II – The alphanumeric codes which include mostly non-physician items or services such as medical supplies, ambulatory services, prosthesis, etc. These are items and services not covered by CPT (Level I) procedures.
Level III – Local codes used by state Medicaid organizations, Medicare contractors, and private insurers for specific areas or programs.
---
Super Bill
A super bill is a form used by medical practitioners and clinicians that can be quickly completed and submitted to an insurance company or employer for reimbursement.
Super bill form consists of 4 main parts, containing mandatory fields to be completed for accurate claim creation:
Provider information
Patient information
Service information
Aditional information
Super bill utilization rules:
1) All required fields should be completed (with the exception of those that are considered optional)
2) Provided information should be readable
3) CPT and ICD-9 codes should be marked clearly
4) In case if required CPT or ICD-9 code could not be found in the given list, Provider should give legible handwritten description of service/diagnosis, along with additional information (units, time, type, etc)
5) Only generally accepted medical terminology and abbreviations are allowed
6) Each super bill should be signed by Provider
---
Stop Loss
Coinsurance indicates how an insurer and an insured will share the costs of a bill that exceeds the insurance policy's deductible up to the policy's stop loss.
Once the insured's out-of-pocket expenses equal the stop loss the insurer will assume responsibility for 100% of any additional costs.
---
Clean Claim
A clean claim is one that does not require the fiscal intermediary to investigate or develop external to their Medicare operation on a prepayment basis.
It is a claim that will pass all Common Working File edits, and are processed electronically, and the claim does not require any external development by the intermediary.
---
Medicai – Spend Down
Medicaid, also known as Title 19, is a medical assistance program for low-income people who are elderly (65 years and older), disabled, blind, or who meet some other category of eligibility. Some people have so little income that they automatically qualify for Medicaid. But seniors and people with disabilities, whose incomes exceed the income limit, may qualify for Medicaid if they have medical bills that equal or are greater than their "excess" income.
The process of subtracting those medical bills from the individual's income over a six month period is called a Medicaid "spend-down."
Seniors placed on spend-downs by the Connecticut Department of Social Services (DSS) have incomes that are in excess of the Medicaid limit set by DSS.
They qualify for Medicaid if within a six-month period they incur medical expenses in an amount that equals or exceeds the amount their income exceeds the Medicaid limit. When that occurs they will receive full Medicaid coverage — and only until the end of the six-month spend down period.
---
CPT – Current Procedural Terminology
Current Procedural Terminology (CPT) is a coding system developed by the American Medical Association (AMA) in 1966, to convert the medical, surgical and diagnostic services rendered by the healthcare providers into five-digit numeric codes.
The CPT code enables the providers to communicate both effectively and efficiently to third-party payers about the procedures and services provided to the patients.
The providers are reimbursed based on the codes submitted for the procedures and services rendered.
---
HPSA – Bonus Payment
HPSA Bonus – Healthcare Provider Shortage Area Bonus. A PSA was defined as a U.S. county with a low ratio of primary care or specialty physicians to Medicare beneficiaries.
For claims with dates of service on or after January 1, 2005 through June 30, 2008, Medicare paid a 5% bonus to the primary care and specialty physicians providing eligible services in the counties with the lowest 20% ratio of primary care or specialty physicians to Medicare beneficiaries. HPSA Bonus payments are usually made on a quarterly basis.
---
International Classification of Disease ICD 9 CM
The International Classification of Diseases, Ninth Revision, Clinical Modification (ICD -9-CM) is based on the official release of the World Health Organization's (WHO) Ninth Revision.
In February 1977, a steering committee was convened by the National Center for Health Statistics to provide advice and counsel in developing a clinical modification of ICD-9.
The term "clinical" is used to emphasize the modification's intent: to serve as a useful tool to classify morbidity data for indexing medical records, medical care review, ambulatory and other medical care programs as well as for basic health statistics.
To describe the clinical picture of the patient, the codes must be more precise than those needed only for statistical groupings and trend analysis.
---
CPT Code – Classification
| Nature of Treatment | Code Category |
| --- | --- |
| 1. Evaluation & Management | 99201 to 99499 |
| 2. Surgery | 10040 to 69990 |
| 3. Anesthesiology | 00100 to 01999 & 99100 to 99140 |
| 4. Radiology (Including Nuclear Medicine & Diagnostic Ultrasound) | 70010 to 79999 |
| 5. Pathology & Laboratory | 80049 to 89399 |
| 6. Medicine | 90281 to 99199 |
CPT Classification
Modifiers
Modifiers are codes that are adopted by the physician to reaffirm to the carrier that the procedure performed was altered or modified due to certain unavoidable circumstances. This is an extension of the procedure code, which further explains treatment performed.
Modifiers are of two types:
CPT Modifier | Format : 2 Digits
HCPCS Modifier | Format : 1 Alphabet followed by a number (or) 2 digits numeric
Diagnosis codes [ DX ]
Diagnostic codes are used to group and identify diseases, disorders, symptoms, human response patterns, and medical signs, and are used to measure morbidity and mortality
---
Kinds of Patients
There are two kinds of patients.
New Patient – The Patient who visits the doctor for the first time or a Patient who has not met the doctor for 3 yrs.
Entry of a new patient's demographic details is called "Registering a patient".
Established Patient – A patient who has already been registered.
For an established patient, the information in the software is updated if there are any changes in his demographic or insurance information.
---
Cash Posting/ Payment Posting
The main aim or goal of any billing office is to collect payments from insurance companies for the services rendered by the physician.
The Cash poster will update the patient's records with the help of the Insurance EOB (Explanation Of Benefits). An EOB is a document sent by the insurance company to the provider/billing company, as a communication of the decision(s) taken by the insurance company.
The three major functions of a cash poster are :
Posting insurance payments in the billing software.
Posting insurance denials.
Posting the patients payments.(with the help of patient statements)
---
Explanation of Benefits [EOB]
An Explanation of Benefits (commonly referred to as an EOB form) is a statement sent by a health insurance company to covered individuals explaining what medical treatment and/or services were paid for on their behalf.
An EOB typically describes:
The service performed—the date of the service, the description and/or insurer's code for the service, the name of the person or place that provided the service, and the name of the patient
The doctor's fee, and what the insurer allows—the amount initially claimed by the doctor or hospital, minus any reductions applied by the insurer
The amount the patient is responsible for.
There normally also will be at least a brief explanation of any claims that were denied, along with a point to start an appeal
EOB [ Sample]
Co-pay
The copayment or copay is a payment defined in the insurance policy and paid by the insured person each time a medical service is accessed. It is technically a form of coinsurance, but is defined differently in health insurance where a coinsurance is a percentage payment after the deductible up to a certain limit.
It must be paid before any policy benefit is payable by an insurance company. Copayments do not usually contribute towards any policy out-of-pocket maximums whereas coinsurance payments do.
---
Co-insurance
A cost-sharing requirement that a beneficiary will assume a portion or percentage of the costs of covered services. After you meet your deductible, you pay a percentage of health care expenses known as coinsurance.
Co-insurance is an insurance-related term that describes a splitting or spreading of risk among multiple parties.
---
Deductible
A deductible is the fixed amount that policyholders have to bear before their insurance policies start contributing and cover the larger portion of your medical bill.
The deductible is a specific amount you pay out-of-pocket expenses before the insurer pays a claim. Deductibles serve as deterrents to large volumes of small and insignificant claims. For example, a $1,000 deductible means you pay the first $1,000 toward any claims. Suppose your car's damage totals $2,000. You pay the first $1,000, and your insurer pays the remaining $1,000.
It is the amount of expenses that must be paid out of pocket before an insurer will cover any expenses.
The deductible must be paid by the insured, before the benefits of the policy can apply.
Typically, a general rule is: the higher the deductible, the lower the premium, and vice versa.
---
Billed Amount & Allowed Amount
Billed Amount:
Billed amount is the amount charged by a physician as a compensation for his services.
The billed amount will reflect on the claim against the treatment that was performed.
Allowed Amount
The maximum amount a plan pays for a covered service.
Pre-determined amount by the insurance
Write Off / Contractual Adjustment
Difference between the billed and the allowed amount will be written off or adjusted.
| | | | | | |
| --- | --- | --- | --- | --- | --- |
| Provider | Billed Amount | Allowed Amount | Amount Paid | Write-off | Amount Due From Patient |
| Dr. Par | $75.00 | $70.00 | $56.00 | 5.00 | $14.00 |
| Dr. Non-Par | $80.50 | $70.00 | $53.20 | 0.00 | $27.30 |
WRITE OFF = BILLED AMOUNT – ALLOWED AMOUNT
Medicare & Medicaid
Medicare is a social insurance program administered by the United States government, providing health insurance coverage to people who are aged 65 and over, or who meet other special criteria
Medicare – Insurance provided by federal government for people over 65 or people under 65 with certain restrictions. There are 2 parts:
Medicaid is the United States health program for people and families with low incomes and resources. It is a means-tested program that is jointly funded by the state and federal governments, and is managed by the states
Medicaid ID Format AB12345C
---
Medicare ID Card & Medicaid ID Card [ Sample]
Birthday Rule in Medical Billing
It relates to the coordination of benefits and determination of the primary payer when the patient is a child and is covered by both parents' health insurance. The birthday of the parent born first in the calendar year will be determined the primary payer.
---
Global Billing
The sum of the professional and technical components of a service when both are provided and billed by the same physician.
Medical Necessity
Defined as those services that are reasonable and necessary for the diagnosis or treatment of an illness or injury.
MediGap
A health insurance policy or other health benefit plan offered by a private entity to those persons entitled to Medicare benefits and is specifically designed to supplement Medicare benefits.
National Provider Identifier [ NPI ]
A unique identification number for covered health care providers.
A National Provider Identifier or NPI is a unique 10-digit identification number issued to health care providers in the United States by the Centers for Medicare and Medicaid Services (CMS).
What is the mandated usage for NPI?
NPI must be the primary identifier in each of the following
HIPAA-mandated electronic transactions:
837 – Claim Submission, institutional, professional, and dental
835 – Remittance Advice
270/271 – Eligibility Inquiry and Response
276/277 – Claims Status Request and Response
278 – Referrals and Response
---
Authorization
Referral: In general, referral is the process of a provider sending the patient to another provider for specialist health care services.
Pre-Authorization / Pre-Certification / Prior Auth: The insurance agencies require the provider to obtain prior authorization before performing certain services
Pre-Existing Condition
The medical condition developed prior to issuance of a health insurance policy which may result in the limitation in the contract on coverage or benefits
Waiting Period
The length of time an individual must wait to become eligible for benefits for a specific condition after overall coverage has begun.
---
Coordination Of Benefits (COB)
Coordination of Benefits (COB) is the mechanism developed to prevent duplication of payment when a person is covered by more than one insurance plan/payer.
It limits the total benefits received to no more than the actual amount incurred for care, or to something less than the actual amount incurred for care.
It helps to determine which is primary and secondary insurance.
Advance Beneficiary Notice [ ABN ]
There are some services which are termed as 'Medically not necessary' by Medicare.
•When the patient is a Medicare beneficiary, the provider sends a prior intimation to the patient describing certain services planned, which are not covered by Medicare.
• If ABN is not sent to the patient, MR beneficiaries cannot be billed for services which are not covered
Capitation
This is a fixed periodic payment that the participating provider would receive from the insurance company, regardless of the number of services rendered by the provider.
This is an option given to a participating provider in the network, mostly the PCPs. With the consent of both the insurance and the provider, the capitation amount can either be raised or reduced. This might even result in termination of the contract.
Fee-For-Service
Fee-for-service is a standard business model where services are unbundled and paid for separately.
In the health insurance and the health care industries, fee-for-service occurs when doctors and other health care providers receive a fee for each service such as an office visit, test, procedure, or other health care service. Patients frequently pay providers directly for services, then submit claims to their insurance company for reimbursement.
UPIN – Unique Physician Identifier Number
This is a number provided by CMS to all Medicare Participating providers. This number is used when a Medicare beneficiary is referred to another provider Format : 6 Alphanumeric characters. | Format : 6 Alphanumeric characters
---
Managed Care Plans
There are methods through which the insurers involve themselves in administering the Healthcare service to the insured. Depending upon the methods the classification can be made into the following categories:
HMO – Health Maintenance Organization
The HMO is a form of Managed care where the insurance creates a network of providers termed PCPs (Primary Care Physicians).
The HMO is a pre-paid health plan in which the subscriber pays a monthly premium.
The HMO covers the cost of care to see doctors within their network at pre-negotiated rates.
The member of an HMO pays only the time-of-service (co-pay), which is pre-negotiated and pays nothing else throughout the treatment.
The members must choose a primary care physician out of a list of PCPs maintained by the HMO.
The PCP who is called the Gatekeeper of the network coordinates all of the member's care and makes referrals to any specialists when needed.
POS – Point of Service
A Point-of-service health plan allows the covered person to choose to receive a service from participating or a non-participating provider
POS can be obtained in the following ways.
An HMO may allow members to obtain limited services from non-participating providers.
An HMO may provide non-participating benefits through a supplemental major medical policy.
A PPO may be used to provide both participating and non-participating levels of coverage and access.
PPO – Preferred Provider Organization
A Preferred Provider Organization typically contracts on behalf of employer groups or other plans with hospital and physician providers at reduced rates. The hospitals and the physicians Participating in the preferred provider network are generally called Preferred or Participating Providers. Usually there is an incentive to the patient to use a Preferred Provider.
A Patient who visits a non-Participating provider is likely to pay a higher co-payment or deductible. Providers offer discounts to PPOs in anticipation of achieving additional patient volumes or to minimize the chances that their patient volumes will go to other providers.
EPO – Exclusive Provider Organization
An Exclusive Provider Organization (EPO) is a variation of a PPO. EPOs contract with providers on a discounted basis, but enrollees must receive care within the network.
EPOs, like PPOs, provide no penalty to providers if the patient opts to obtain care outside the network. Instead, the enrollee assumes responsibility for out-of-network costs.
Account Receivable (AR)
AR is also the process of recovering claims past due from payers, either insurance companies or patients, to maximize revenues
AR-Accounts receivable deals with follow up with the insurance companies with respect to pending or unpaid claims or Follow up with the patients for additional information or pending money due to the provider. [The pending balance could be current or past due]
AR Days: AR days is the number of days that it takes to collect the payment from insurance. For KPI, the formula to calculate…
AR Days = Total Outstanding AR / Average of last 6 months daily charges.
Off-set
When the insurance agency makes a payment in excess to the provider or makes a wrong payment, the amount is 'offset' by the insurance company in the next transaction(s) and is indicated in the EOB. •Medicare deducts late filing penalty as an offset.
Payback
When the insurance agency makes excess payments to the provider, the provider reimburses the insurance agency by check. This is called a Payback, also known as a "Refund".
Recoupment
Recoupment is also a common practice within the insurance industry. It means virtually the same thing, but generally occurs when an insurance company has paid the benefits to a hospital and then takes back that money when they have determined that those benefits should not have been given
PARTICIPATING PROVIDER
A provider that has contracted with an insurance carrier or Managed Care plan to provide health services to plan members. A physician or group of physicians can participate as single entity with insurance company. Physician or other medical provider has agreed to accept a set fee for services provided to members of a specific health plan. They are deemed to be "in-network"
Participating with an insurance program means Physician agrees:
To accept assignment for all claims they submits i.e., the physician requests direct payment from the insurance
To accept insurance allowable as payment in full for services regardless of the charge he makes
To complete and file the claim forms for the patient at no charge for the patient, and
Not to bill the patient for services determined by the carrier to be not reasonable and necessary.
Non-Participating Provider
A provider that does not sign a contract to participate in a health plan and refuses to accept insurance allowable as payment in full.
In commercial plans, non-participating providers are also called "Out-of-Network Providers" or "Out of Plan Providers". If a beneficiary receives service from an out of network provider, the health plan will pay for the service at a reduced rate or will not pay at all.
In case of Non Par providers the health plan will send payment to the patient and the patient will be responsible for paying the provider. The Non Par Providers can bill the patient for balance amount.
Difference Between Par & Non Par Providers
| | |
| --- | --- |
| Par Providers | Non Par Providers |
| 1. Lesser Patient's Responsibility. | 1. Patient's Responsibility will be Higher. |
| 2. Accepts Insurance allowed amount. | 2. Does not accepts insurance allowed amount. |
| 3. Normally Insurance pays to provider directly. | 3. Some times Insurance pays directly to Patient and Patient again need to pay it to the provider. |
---
Credentialing
What Is Credentialing?
Credentialing is the process by which a health plan evaluates and approves or disapproves a provider who is licensed, certified or registered to practice independently to provide services as a participating provider of the plan.
When is Credentialing Performed?
The successful completion of credentialing is a requirement prior to participation in any of products for which credentialing is a requirement.
Why Perform Credentialing ?
Credentialing is a method to ensure a quality provider network for the members of the health plan.
What is Re-credentialing ?
Re-credentialing is the process by which a health plan periodically re-evaluates and approves or disapproves a provider for continued participation as a participating provider of the plan.
Documents Required for Crendentialing
Hospital Application
Provider education certificates, ECFMG(Educational Commission for Foreign Medical Graduates) certificates where applicable
Internship, Fellowship and Residency certificates
Licenses
DEA (Drug Enforcement Administration)
Board Certificates
Appointment letters
W9 form
NPI notifications
Malpractice face sheet.
Denials
Common Insurance denial reason
Claim denied for Missing / Additional information
Claim denied as Duplicate
Claim denied for Prior-Authorization / Referral:
Claim Denied as Inclusive
Claim denied as included in Global period
Claim denied as not medically necessary / Pended for medical notes
Claim denied as non covered service
Claim denied for eligibility
Claim denied for late filing
Claim denied as CPT – Dx mismatch
Claim denied / Pending for accident information: (Workmen's Compensation)
Comprehensive Benefit Plan (CBP)
Effective from 01/01/2010, BCBS has changed CBP plan from Indemnity to PPO.
ID Prefix changed from YLA to NYC.
Hence, in order to recognize CBP plan, we need to look for NYC prefix for BCBS.
All Professional Claims should be sent to GHI.
Hospital & ER Claims should be sent to BCBS.
If PYMT received from GHI and BCBS for IP and ER Location and BCBS Prefix is NYC, need to refund to GHI.
RBRVS
Resource-Based Relative Value Scale (RBRVS) is a schema used to determine how much money medical providers should be paid. It is currently used by Medicare in the United States and by nearly all Health maintenance organizations (HMOs).
RBRVS determines prices based on three separate factors: physician work (52%), practice expense (44%), and malpractice expense (4%).
For example, in 2005, a generic 99213 Current Procedural Terminology (CPT) code was worth 1.39 relative value units, or RVUs. Adjusted for North Jersey, it was worth 1.57 RVUs.
Using the 2005 Conversion Factor of $37.90, Medicare paid 1.57 * $37.90 for each 99213 performed, or $59.50.
Most specialties charge 200–400% of Medicare rates for their procedures and collect between 50–80% of those charges, after contractual adjustments and write-offs.
---
Denial Management
What is a denied claim?
Claim that is returned as unprocessable or denied without full allowable reimbursement
Objective:
Define and identify denied claims
Differentiate the reasons for claim denials
Correct common denial reasons
Avoid common claim errors
Using Encoder Pro to proactively prevent denied claims
Reason for Claim Denial
Administrative
– Incomplete or missing patient demographic
– Incomplete claim form
– Missing signature
– Missing waiver signature or preauthorization
Incomplete claim data
– National provider identification number (NPI)
– Rendering provider, referring provider
– Other data
Coding errors
– Unbundling, missing, incomplete or invalid CPT,
HCPCS, or ICD-9-CM codes
– Incorrect number of units
– Incorrect place of service
– Incorrect or missing modifier
Type of Denial
Tracking and evaluating the types of denials your practice receives allows you to determine what you are doing incorrectly and provides the information you need to get it right. Even well managed practices have denied claims. Consider the types of claim denials you received and Are they for the same types of errors.
Denial Vs Rejections
Claim denied by insurance and claim rejected by clearing house
Administrative Errors
Preventing administrative errors
– Collecting patient data at every visit
Insurance changes
Address changes
Employer changes
Signature on file – current
Review policies and procedures
Appointment checklist
Determine preauthorization or precertification when appropriate
– Include information when billing
Common insurance denial
Medical necessity denials
Request for in-network coverage
Coverage Exclusion or Limitation
Maximum Reimbursable Amount
Mutually Exclusive, Incidental procedure code denials
Experimental/Investigational Procedure
Medical Necessity
Timely Claim Filing
Additional information required from patient/provider
Claim Form error
Claim sent to wrong address
Claim denied for coordination of benefits
Claim denied for maximum benefits reached
---
Insurance ID Format
Insurance name
ID# Format
Comments
AARP Health care
961574644
9 Digit Number and this Insurance always be a secondary because this Medicare supplement plan
AARP Medicare Complete
915336628
9 Digit Number and this Insurance always be a Primary because this Medicare HMO plan
Aetna
W101444750
Commercial
BBJV4HQA
Aetna HMO
578822521
Commercial
Champva
ID# is Patient SSN#
Champva is secondary to most other health plan and Champva is primary to Medicaid
Cigna
U33611831
Always ID# begin with "U" followed by 8 digits
GHI
930632448
9 Digit Number
MHBP (Mail Handlers Benefit plan)
784080159-02
11 Digit Number
Medicaid
AB12345C
2 Alpha prefix 5 digit 1 alpha suffix for Medicaid NY
Medicare
206344498A and 340018309C1
9 Digit followed by one alpha
NALC
N32233015
ID# begin with "N" followed by 8 digit
Rail Road Medicare
A721031033
ID# begin with alpha before numeric
Tricare
ID# is Patient SSN#
9 Digit Number
UHC
854728427
9 Digit Number
BCBS
R51006221 YLS890449801
YJX88001309101
ID# begin with "R" followed by 8 digit – Federal Plan Blue option plan
Humana
H46899857
Mostly ID# begin with "H" it might be Medicare HMO plan
HSA | HRA | FSA
| | | | |
| --- | --- | --- | --- |
| | Health Savings Account (HSA) | Health Reimbursement Arrangement (HRA) | Flexible Spending Account (FSA) |
| The Basics | A tax-advantaged account used to pay qualified medical expenses of the account holder, spouse, or dependents | An employer-funded arrangement used to reimburse employees for qualified medical expenses | An employer-established, tax-advantaged account funded by employees to pay for qualified medical expenses with tax-free dollars |
| Who can open the account? | The employee or employer as long as the employee is enrolled in an HSA-eligible health plan | The employer | The employer |
| Who can contribute? | Employers, employees or any third party | The employer | The employee |
| Who owns the account? | The employee | The employer | All unspent funds revert back to the employer at year end |
| Is there a yearly contribution limit? | Yes. $3,000 for individuals and $5,950 for families in 2009. In 2010, the yearly contribution limits will be $3,050 for individuals and $6,150 for families. | Yes. Determined by the employer | Yes. Determined by the employer |
| Do unused funds carry over to the next year? | Yes | Determined by employer | No |
| Can you take the account with you if you change jobs or retire? | Yes | No | No |
| Can you use the account for retirement income? | Yes. After age 65 you can withdraw money for any reason with no penalty, although it will be taxed as income | No | No |
What is CLIA?
Clinical Laboratory Improvement Amendments (CLIA). What is CLIA? How to obtain CLIA Certification? Types, details, and purpose explained here.
Read More About CLIA in Details Here